Safeguard your skills. For hoteliers who want to continue their learning and develop their career during COVID-19.
What's in the Hospitality Essentials subscription?
Use Hygienic Practices for Hospitality Service
Participate in safe work practices
Hotel Security Awareness
Workplace Ethics
Provide Service to Customers
COVID-19 Awareness
Why subscribe to Hospitality Essentials?
Optimised learning to support hoteliers through COVID-19
Great value professional development at only $9/month
15+ hours of interactive learning
Complimentary certificates of completion for each course
Delivered online – learn anytime, anywhere, on any device
Training for industry, by industry
Cancel anytime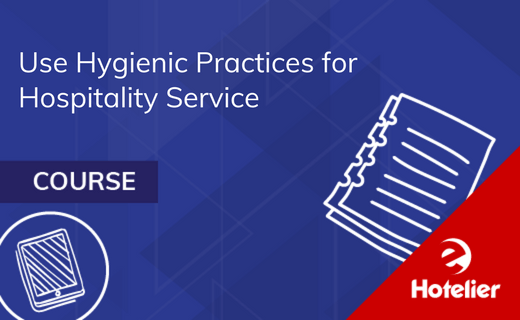 Use Hygienic Practices for Hospitality Service
Being involved in a service industry such as Tourism, Hospitality and Events means that you can have a direct effect on the health and wellbeing of customers and fellow staff members. It is your duty to ensure that you do not put other people, or yourself, at risk of health problems.
The best way to reduce the possibility of health problems is to follow the appropriate hygiene procedures in your workplace. Whether you work in food preparation, preparing rooms, serving drinks or guiding tours, it is essential to maintain a safe, healthy and hygienic workplace.
Hygiene is no laughing matter – poor hygiene can result in serious consequences. If prescribed procedures are not followed, especially regarding food safety, customers, colleagues and even you could become sick. Your business is also at risk of fines or even closure. In the worst-case scenario, poor hygiene practices can even lead to someone's death!
What you'll learn:
1. Introduction
2. Why is Hygiene Important?
3. Why is Personal Hygiene and Health Important?
3.1 Types of Infections
3.2 Potential Effects of Poor Hygiene
4. How Can I Prevent Hygiene Hazards?
4.1 Developing a Routine
4.2 Uniforms
4.3 Cuts and Abrasions
4.4 Washing your Hands
4.5 What if I'm Sick?
4.6 Working Hygienically in Accommodation Services
4.7 Identifying and Reporting Hygiene Hazards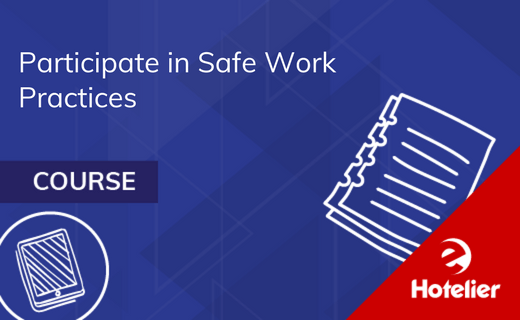 Participate in safe work practices describes the performance outcomes, skills and knowledge required to incorporate safe work practices into all workplace activities. It requires the ability to follow predetermined health, safety and security procedures and to participate in the organisation's Work Health and Safety (WHS) management practices.
This unit applies to all tourism, hospitality and events sectors and to any small, medium or large organisation.All personnel at all levels use this skill in the workplace during the course of their daily activities.
What you'll learn:
1. Work safely
1.1. Follow the organisation's health and safety procedures.
1.2. Incorporate safe work practices into all workplace activities.
1.3. Follow the safety directions of supervisors, managers and workplace safety warning signs.
1.4. Use personal protective equipment and clothing.
1.5. Promptly report unsafe work practices, issues and breaches of health, safety and security procedures.
1.6. Identify and remove hazards from immediate workplace area and report all workplace hazards as they arise.
2. Follow procedures for emergency situations.
2.1. Recognise emergency and potential emergency situations.
2.2. Follow the organisation's security and emergency procedures.
2.3. Seek assistance from colleagues or authorities.
2.4. Complete emergency incident reports, accurately, using organisation procedures.
3. Participate in the organisation's WHS practices.
3.1. Participate in WHS management practices developed by the organisation to ensure a safe workplace.
3.2. Actively participate in the WHS consultation processes, identify and report safety issues requiring attention.
3.3. Report WHS issues and concerns as they arise.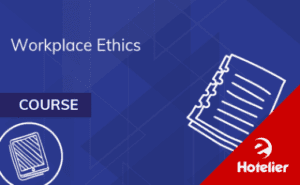 Does your workplace create a culture of 'doing what is right' and not just doing 'what is easy'?
How we behave at work is often a reflection of how the business behaves; how employees behave to each other, and ultimately, how they then behave to their customers.
This short course developed by Professor Peter Jones, Dean of eHotelier Academy will help you develop the tools you need to protect yourself, your organisation, other stakeholders and customers by making better ethical decisions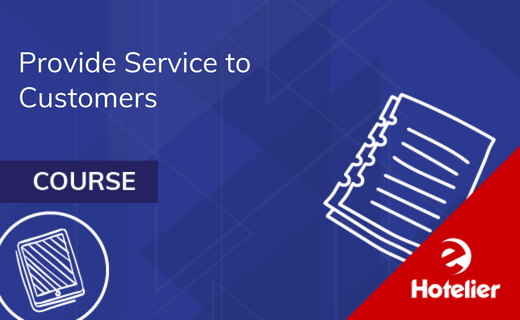 Provide Service to Customers explores the outcomes, skills and knowledge required to communicate effectively with and provide quality service to both internal and external customers. It requires the ability to establish rapport with customers, determine and address customer needs and expectations and respond to complaints.
This unit applies to all tourism, hospitality and events sectors.
It applies to those frontline service personnel who deal directly with customers on a daily basis and who operate with some level of independence and under limited supervision. They would work in reception areas, in an office, back-of-house and on tour or on site. This includes a range of people: food and beverage attendants, concierge staff, guides, front office personnel, tour coordinators, event coordinators and retail travel consultants.
What you'll learn
1. Communicate with internal and external customers.
1.1. Communicate with customers in a polite, professional and friendly manner within designated response times.
1.2. Use appropriate language and tone in both written and spoken communication.
1.3. Use appropriate non-verbal communication.
1.4. Observe and respond to non-verbal communication of customers.
1.5. Use active listening and questioning to facilitate effective two-way communication.
1.6. Select a medium of communication appropriate for the audience and situation.
2. Deliver service according to defined standards.
2.1. Practise high standards of personal presentation according to organisation requirements.
2.2. Follow the organisation"s customer service policies and procedures.
2.3. Adhere to the professional standards expected of service industry personnel.
3. Provide service to customers.
3.1. Establish rapport with the customer to promote goodwill and trust during service delivery.
3.2. Identify customer needs and expectations, including customers with special needs.
3.3. Promptly meet all reasonable customer needs and requests.
3.4. Identify and anticipate operational problems and take action to minimise the effect on customer satisfaction.
3.5. Recognise and act upon opportunities to deliver additional levels of service beyond the customer's immediate request.
4. Respond to customer complaints.
4.1. Proactively recognise customer dissatisfaction and take swift action to avoid escalation to a complaint.
4.2. Respond to customer complaints positively, sensitively and politely.
4.3. Seek solutions by consulting the customer.
4.4. Resolve complaints according to individual empowerment and organisation policy.
4.5. Refer complex service issues to a higher level staff member for action.
4.6. Maintain a positive and cooperative manner at all times.
5. Provide internal feedback on customer service practices.
5.1. Provide ongoing internal feedback on service practices, policies and procedures, and suggest improvements.
5.2. Identify individual and recurring complaints and provide internal feedback to avoid future occurrence.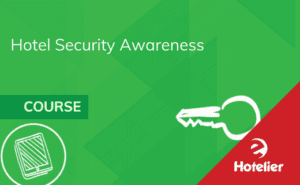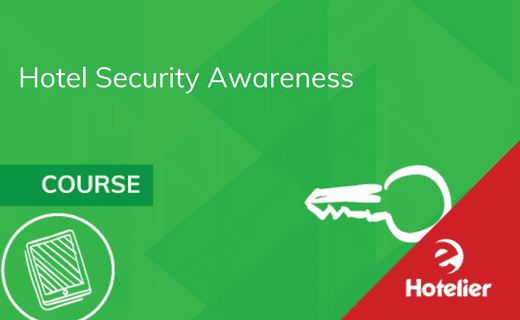 Security Awareness means you see or hear something and it does not feel right and you take action to prevent harm to yourself, your colleagues, and/or guests. What you will learn from case studies and exercises can be applied to every department in a hotel. The training is designed to refresh your security knowledge on a regular basis so you are prepared for the 'real thing'.
What you'll learn
The See, Hear Feel and Tell approach
Basic human rights and duty of care
Security procedures
Suspicious activity
Terrorism and active shooter incidents
Identity theft and credit card fraud
Cyber crime
This interactive Online Hotel Security Awareness Course features videos, animations, case studies and exercises, so there's something to suit all learning styles. Track your progress online to manage your time and achieve your goals without investing a fortune. This training will also help hotel employees and management with common problems such as crime.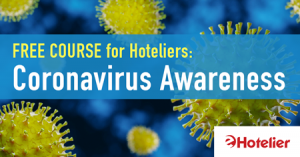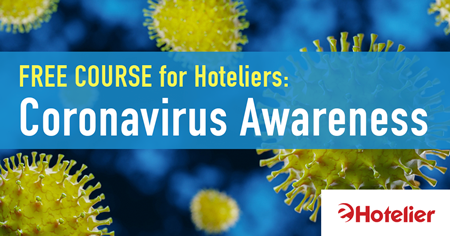 Coronavirus Awareness is a short but comprehensive course on how to prevent, control, communicate and manage coronavirus (COVID-19) incidents in hotels. Designed by eHotelier specifically for the hospitality industry, this course is relevant for all hotel and hospitality professionals.
What you'll learn:
*What is coronavirus (COVID-19)
*Protecting yourself against Coronavirus
*Identification and isolation of Guests
*How to communicate and manage a coronavirus incident in your hotel
You may also like…